As its name suggests, the business formal dress code is the most formal of office dress codes. It's the domain of lawyers, bankers, finance professionals and government roles. You can consider it as one rung up the ladder from the slightly more relaxed business professional dress code.
In a word, it's simply a suit with a business formal shirt, but there's much more to consider before rushing out to the highstreet or the tailor to invest in a three-piece.
Here, we'll take you step by step through the various elements of business formal menswear. Plus helping you to make the ideal outfit for the workplace.
Before investing in business formal clothing, however, do make sure that this is the dress code for your work environment. Since office dress codes are largely about creating a de-facto "uniform", it's important that what you wear helps you fit in for the right reasons. You want to avoid standing out for the wrong ones.
The Business Formal Suit
A well fitted, plain coloured, two-piece wool suit will suffice here. The trousers and jacket ought to match, and we'd recommend sticking to a darker grey, navy or midnight blue.
If you want to add a little more dazzle to your business formal suit, make it a three piece, but do make sure to keep your waistcoat the same colour, or a similar one, to your suit jacket and trousers.
The classic business formal suit is single breasted, but a double-breasted suit creates an even more opulent look. Indeed, a double-breasted business suit is usually seen on more senior employees or CEOs.
The Business Formal Shirt & Tie
The quality of your shirt should never be overlooked. After all, it quickly becomes the main attraction of your outfit as jackets are usually removed once we've sat down at the desk to work.
A slim or regular fitting, button down formal shirt with a nice straight point collar or cutaway collar is required. We'd recommend choosing 100% cotton or a cotton blend as it provides supreme comfort but is also durable enough to avoid creasing throughout the day.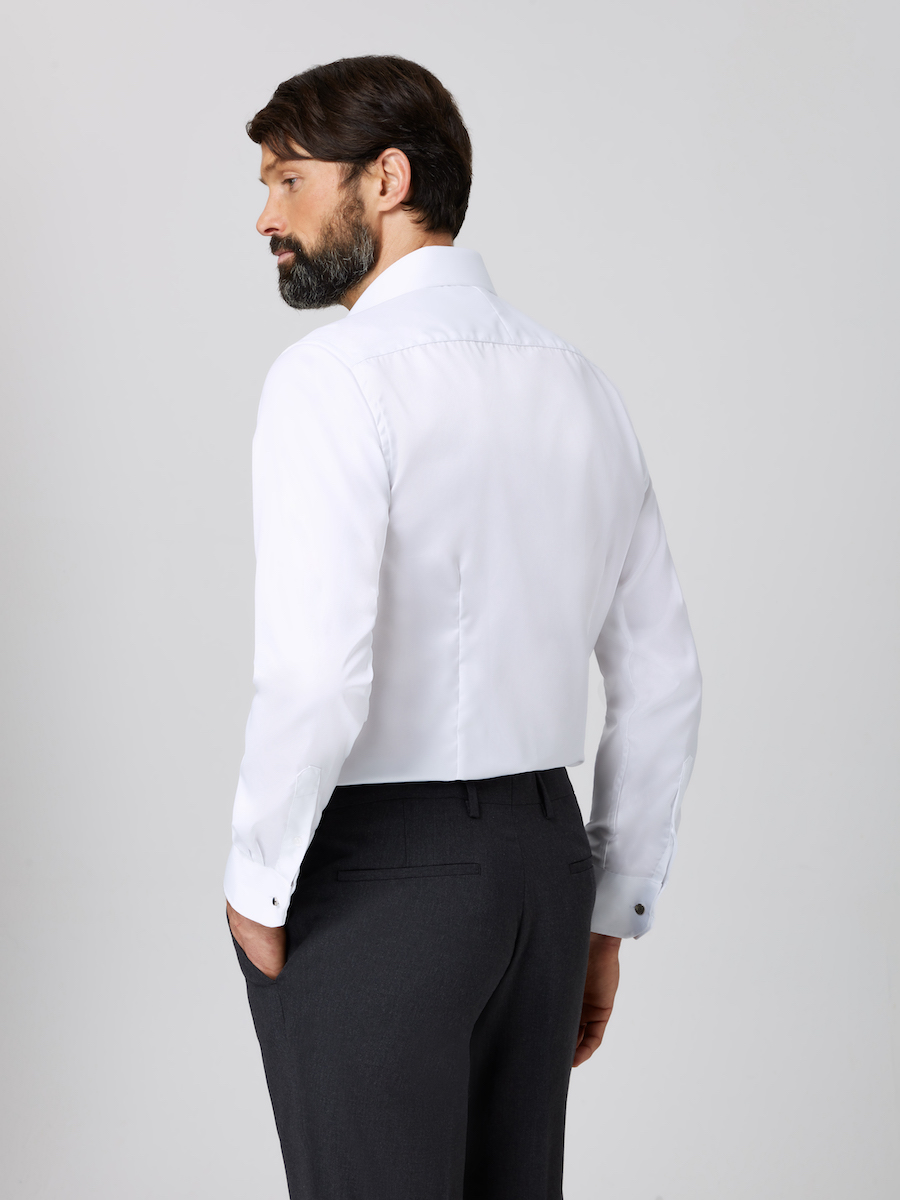 As for the colour, a business formal shirt is often best paired with a plain white shirt. However, lighter colours such as light blue or pink are also solid, reliable options.
If you'd like to stand out a little with a patterned shirt, go for simple, subtle stripes or checks in a lighter colour—anything from light blue, medium grey or even a pink or red on white can look great, provided it compliments your jacket and trousers.
A great way of adding a little bit of class and refinery to a formal shirt is by wearing one with french cuffs, bound by a smart pair of silver cufflinks. Cufflinks are considered a formal accessory, so there are few better places to wear them than a business formal event.
A tie is non-negotiable in business formal attire. Usually, wearing a tie gives us a nice chance to show some flair and personality, but fair warning: it can make or break an outfit. Choose a colour and pattern which blends in nicely with the rest of your outfit. A solid colour, deep red, navy or blue, will set your look off nicely. However, subtle, repeating patterns set against a darker background are also an excellent choice.
Business Formal Shoes
Just as the tie can ruin a good business formal suit, so too can a poorly considered pair of shoes. No matter what business formal shoes you wear, make sure they're leather. Additionally, make sure they're kept polished and in top condition. You don't want to be frantically spit-shining your shoes when the CEO calls you up to their office.
Oxfords are generally the most formal shoe you could wear. Also, brogues, wingtips, derbies and conservatively chosen loafers will also work just fine.
Finally, let's talk about the colour. You won't be surprised that we'd recommend playing it down here. Keep it dark, from brown, to a dark navy, to black.
A Final Word
Remember that business formal dress codes are predominantly about respect. While the rules of dressing have been in flux for decades, more so now than ever, we can still show respect for our working environment and our colleagues by dressing well. However, this doesn't have to mean paying thousands to a tailor, or hundreds to a premium high street chain. By taking care of the basics, being able to call on a few well fitted shirts to pair with your suit, and maintaining our garments, we can still look fantastic at the office.
Here's hoping that the world of business formal dress codes is a lot easier to follow after reading this article. Check out our related articles and guides below and stop by the Nickson Online Store when you're ready to purchase your next formal business shirt.