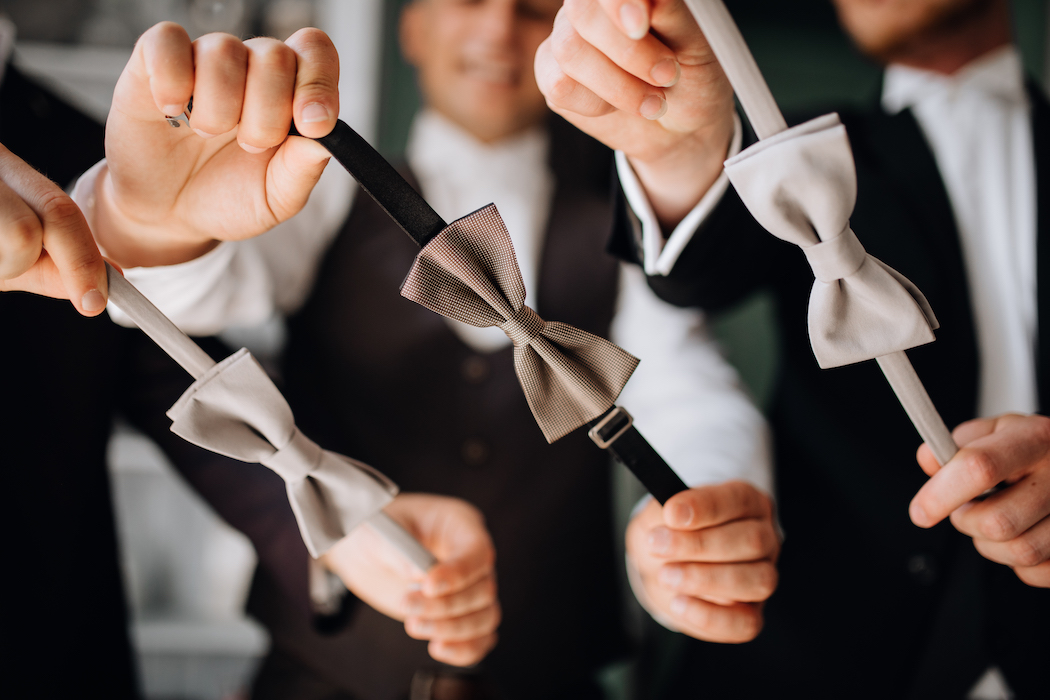 Whether you're a groom or a groomsman or simply a wedding guest, wearing a bow tie to a wedding can be a nice way to add a final flourish to your outfit. It's a great way of standing out from the sea of suit & tie combos. But that's not to say that you should always wear a bow tie. On occasion, it can look a little too out of place and jar with the theme of the day. 
There's a common belief that bow ties are much more formal than neck ties, but this doesn't tell the full story. They are often worn with a tuxedo (also known as a dinner jacket) at very formal "black tie" events. But they can also be worn to add colour and life to smart casual and business casual outfits. So, in short, the bow tie is simply an alternative, if slightly "braver", neckwear option.  
Here we'll run through a few things you should consider before opting to wear a bow tie to a wedding.
Consider the dress code
This is the most important thing to acknowledge before choosing your clothes for a wedding. If your invite says "black-tie", you're obliged to wear a tuxedo (usually in black or midnight blue). And with a tuxedo, the bow tie is a must.
But even black-tie dress codes are shifting, and weddings invites often indicate "creative black tie", "black tie optional", or "formal". 
For creative black tie, you've got some leeway to inject some colour into your black and white outfit. However, you're still usually expected to wear a dark bow tie here, but you can get a little loose with the colour of a vest or cummerbund. 
Black tie optional and formal dress codes are an indication that your hosts expect you to dress up but won't frown upon you if you wear a suit and tie. It's up to you here — go with the tux and bow tie if you're happy to, or just stick to a formal suit and tie. 
For any other wedding dress code from casual to semi-formal, wearing a bow tie is completely up to you, but don't wear a tuxedo.
Think about your company
What's your role in the wedding? Guest, groomsman or groom? There's no solid rule on how your role changes your outfit here but try to avoid showing the groom up (unless, you know, the groom is you…). 
By this, we mean that as a member of the groom's party, you want to fall in line with the rest of the team. Wearing a bow tie is a fantastic way for the groom to distinguish himself from the rest of the squad. It's also a great styling method for the whole groom's party. But if you show up wearing one, and the others (groom included) are sporting a necktie, you might just knock a nose or two out of joint. 
And finally, if you're simply a guest, the choice is yours completely. We'll go into some details on how to pull the look off below.
Consider the location and season
For summer weddings, and outdoor destination weddings in particular, colourful bow ties are growing more and more popular. This is one of those ways we mentioned above where bow ties can actually create a more relaxed, dressed down look.
When the sun is shining and the temperature is soaring, a necktie can sometimes look a little stiff and restrictive. Here, a bow tie in a lighter colour or more playful pattern really aids in brightening your whole outfit up a little.  
How to wear a bow tie to a wedding
Now that we've covered how to know whether or not you can wear a bow tie to a wedding, let's look at a few style considerations on how to do it (when the invite doesn't simply say "black tie").
Bow tie & suit
Can you wear a bow tie with a suit? In a word, yes. But do think about how it can change your look. You see, a necktie actually takes up quite some space in an outfit with its length, whereas a bow tie obviously doesn't. 
If you're planning on wearing a one button jacket (which has made its way into the semi-formal dress code), a bow tie will create a lot of empty space around your chest. Frankly, this doesn't look great.
For two and three button jackets, a bow tie can look better since there's much less empty space.
The solution? Wear either a waistcoat as part of a three-piece suit, or a double-breasted suit. These options remove a lot of that empty space and "tighten" up your look. Do bear in mind that double breasted suits are often reserved for "very" formal events though. So, for a slightly less formal, but still uber smart wedding day look, the three-piece suit and bow tie combo is a winner. 
Bow tie & suspenders (with no waistcoat)
This is the exception that breaks the above rule on "empty space" and fits nicely into both the summer destination and semi-formal wedding wardrobe. Bow ties and suspenders look great when you've taken off your jacket as they nicely counteract the empty space and combine to create a nice variety of colour. 
The key to wearing a bow tie with suspenders is to use them as a tool for adding colour, but not too much. To that end, keep your bow tie and suspenders a similar colour to avoid an unseemly clash. If you're wearing a patterned bow tie, the suspenders should usually match the primary colour. 
Bowties & weddings: A final word
Feeling comfortable with what you're wearing is a major part of looking great. If you want to wear a bow tie to a wedding, you absolutely can, and you can look amazing. If you're still in doubt about whether you can or should wear one, simply reach out and ask the bride or groom. But generally speaking, you're free to do so. Now, the trick is to look great, and by following our advice, you're sure to do just that.
We trust that you've learned a thing or two about dressing for a wedding in this article. Check out our related articles and style guides below and explore the Nickson Shirts collection to find your next shirt.