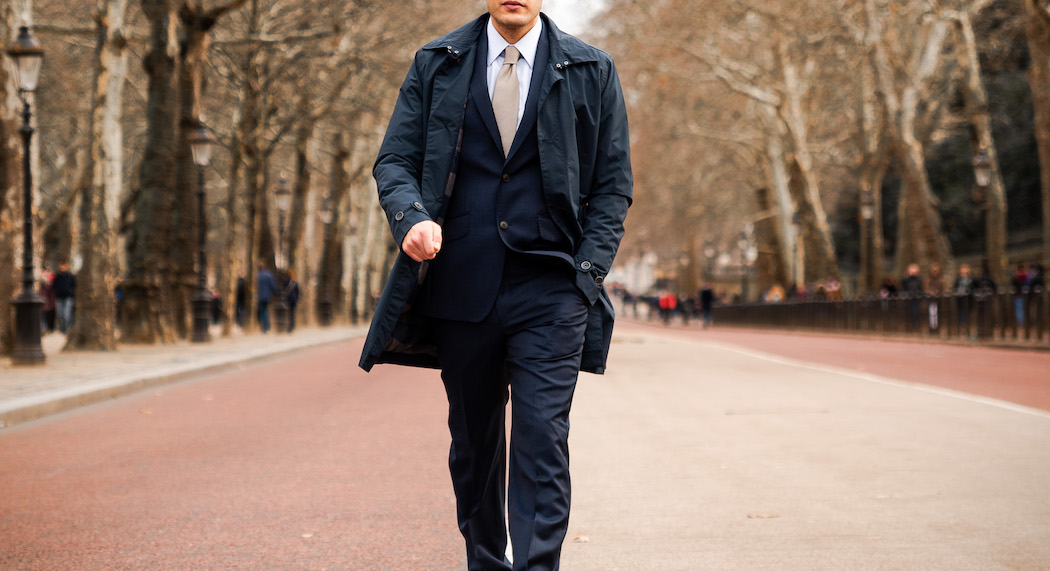 A standard suit jacket and a formal shirt don't always have to be paired. In this post, we are going to talk a number of great jacket options that will look great in both professional and formal settings. Pair these with a well fitted, quality formal shirt (we have loads of those here) to complete your look.
Here are four of our favourite jackets to pair with formal shirts:
1. Blazer
Blazers differ from suit jackets in that they're a step down in formality. They're not quite as rigidly structured around the shoulder and tend to have a slightly more relaxed fit. Furthermore, they also don't have to be worn in the same colour as your trousers.
Try out a grey blazer with a pair of navy trouser or chinos. Finish off the look with a light blue or white shirt, ideally in 100% cotton.
Alternatively, a navy blazer will look great with a blue striped shirt and pair of dark grey chinos or trousers.
2. Overcoat
Thankfully overcoats are making a strong comeback in the men's fashion world. Above all, are the classic range of styles (Trench, Chesterfield, Ulster etc). The thigh length or knee length drape usually characterises these.
Overcoats are practical, keep you warm in winter, and look seriously sophisticated. Hence, as the name suggests, you can wear these over your suit jacket to add some wonderful texture and depth to your look.
Try a medium grey wool overcoat over a black or navy suit with a white formal shirt. If you want to look extra fancy, get yourself a black double-breasted overcoat and wear it over a white shirt and grey trousers (suit jacket optional).
3. Pea Coat
Pea Coats are similar in many ways to overcoats where the key difference is that they're waist-length. Therefore, these are a great option if you want all the practicality and warmth of an overcoat, but without the extra weight and ostentatious air. They also have the added bonus of combining nicely with the rest of your wardrobe.
The best pea coats usually come double breasted and in neutral colours—black, navy, grey and brown.
Try out a blue striped formal shirt with a dark grey or navy pea coat. Or a black or white fitted formal shirt with a medium brown coat.
4. Crombie Coat
Perfect for cold winters and draughty commutes, the Crombie coat is a long-standing staple of highbrow British fashion. It takes its name from its original manufacturing company. Over time however, it's transcended its origins and come to represent the design trend at large.
The velvet collar is used to distinguish it and it looks much like an overcoat in length, which usually comes in a different shade.
A white or blue formal shirt, brown crombie coat, and navy trousers will look brilliant at formal and business events alike. A good choice is a charcoal grey or midnight blue crombie, or a white shirt and black trousers.
Now you know which jackets will look fantastic with your shirt, we hope you'll appreciate the versatility of a well fitted, high quality formal shirt. Check out the Nickson collection here, and have a read of our related lifestyle articles and style guides below.
For the latest updates, follow our Instagram here and check out our other posts below: